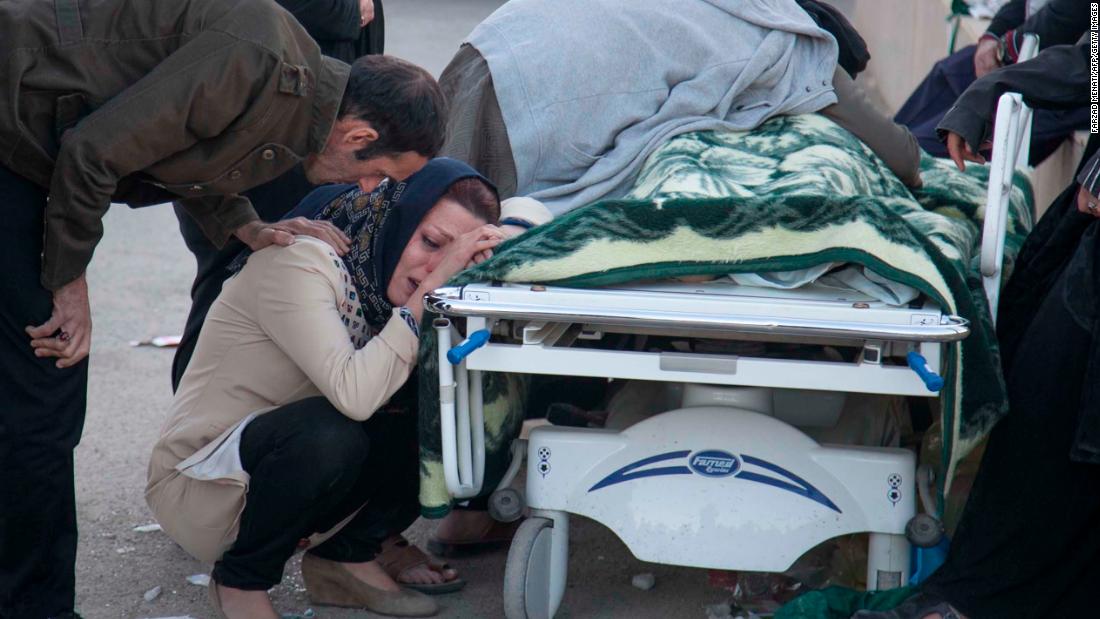 (CNN)The wildfires may be contained, but California's wine country is struggling to attract visitors. Here's what else you need to know to Get Up to Speed and Out the Door. (You can also get "5 Things You Need to Know Today" delivered to your inbox daily. Sign up here.)
Hundreds are dead after
a powerful earthquake
rocked the Middle East over the weekend. At least 300 were killed and more than 2,500 injured when the 7.3 magnitude quake hit the border region between Iran and Iraq. The quake's epicenter was in Iraq, but it devastated the Iranian border town of Sarpol-e Zahab, where at least 100 people died. Part of a dam was cracked in another town. The tremor was
felt across the region
as far away as Pakistan, Lebanon, Kuwait and Turkey.
2. Trump in Asia
President Trump is in the Philippines to attend the ASEAN summit, which marks the final stop on his almost two-week Asian trip. This could have been the
trickiest stop on the tour,
since it required meeting controversial Philippine President Rodrigo Duterte, who has waged a bloody war on drugs and crime in his country and has
even admitted to murder
. But Trump had no difficulties exchanging pleasantries with Duterte. The two men met privately for about 40 minutes. The White House said the President "briefly" brought up human rights, something Duterte's spokesman denied.
3. Texas church shooting
This was by far the toughest sermon Frank Pomeroy ever delivered. The pastor of the Texas church where 25 people — including his own 14-year-old daughter — and an unborn child were killed fought back tears during the
First Baptist Church's first service
since the shooting. "I guarantee without any shadow of a doubt they are dancing with Jesus today. God gets the glory," Pomeroy said during the service, held under a white tent on a baseball field not far from the church.
For Sunday's service, the site of the shooting was transformed into a memorial. The entire church gleamed in white, and there were 25 red roses on 25 white chairs for the victims. One chair held a single pink rose in honor of the unborn child. First Baptist Church will resume services in its sanctuary next Sunday.
4. Rohingya crisis
We are learning terrible details about a massacre of Rohingya in a village called Tula Toli in Myanmar. A Bangladeshi-British documentary filmmaker said those who escaped the area and made it to Bangladesh told him horrific tales of
rape, mass murder and people being burned alive.
More than 600,000 Rohingya refugees have fled Myanmar into Bangladesh since August. They're escaping violent clashes in areas where Myanmar's military is conducting what it calls "clearance operations." The UN and human rights groups like Amnesty International call it ethnic cleansing. The Rohingya, a mostly-Muslim ethnic group who are effectively stateless, are considered the most persecuted people in the world.
5. Aircraft carriers
It was quite the show in the Pacific over the weekend as three US Navy aircraft carriers
sailed together for the first time in a decade
. The three 100,000-ton behemoths — the USS Ronald Reagan, the USS Theodore Roosevelt and the USS Nimitz — along with their multi-ship strike groups conducted exercises near the Korean Peninsula and Japan. The presence of the ships in Pacific waters is seen as sending a message to North Korea, namely that the US won't be intimidated by the North's continued nuke testing.
BREAKFAST BROWSE
People are talking about these. Read up. Join in.
Dame of dish
Before social media, the best way to keep up with celeb gossip was to read Liz Smith. The
famed gossip columnist
has died at age 94.
Ever-expanding universe
Disney says it's starting work on
a new "Star Wars trilogy"
with brand new characters. Hey, how about finishing this current trilogy first?
Face to face
Suit up
He's no Tony Stark, but a man wearing a real-life "Iron Man" suit
set a world record
for body-controlled, jet-powered flight.
AND FINALLY
Hammer it out
Need Thor's hammer for a costume or just to swing around the house? You don't have to go to Asgard. A prop maker shows how to make one yourself. (
Click to view
)
Read more: http://www.cnn.com/2017/11/13/us/five-things-november-13/index.html